As voters head to the polls on Tuesday to cast their votes in the midterm elections, some may need to pack more than an umbrella in parts of the country.
While a large portion of the nation is expected to see fair weather on Election Day, the threat of severe weather, including tornadoes, is possible across the Southeast.
The National Weather Service's Storm Prediction Center said that a system moving out of Arkansas will bring an "enhanced risk" of severe thunderstorms across northeastern Louisiana into Tennessee from Monday night into Tuesday.
"The best chance for large hail, damaging winds, and tornadoes will be across southeastern Arkansas, northern Mississippi, northwestern Alabama, through Tennessee and Kentucky," Fox News Senior Meteorologist Janice Dean said Monday. "Heavy rain could cause flooding over parts of the Ohio and Tennessee River Valley."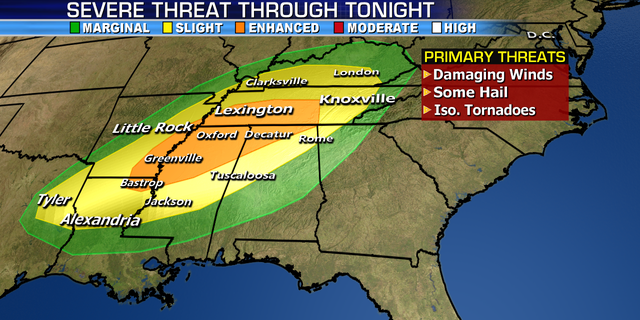 Storms could target the cities of Memphis and Nashville in a state where Rep. Marsha Blackburn, R-Tenn., is facing off against Democratic opponent businessman Phil Bredesen for a Senate seat.
Further east, the National Weather Service's Atlanta office said that "strong to severe thunderstorms" could be possible in the early morning hours on Tuesday in northwest Georgia, and transitioning southeast as the day goes on.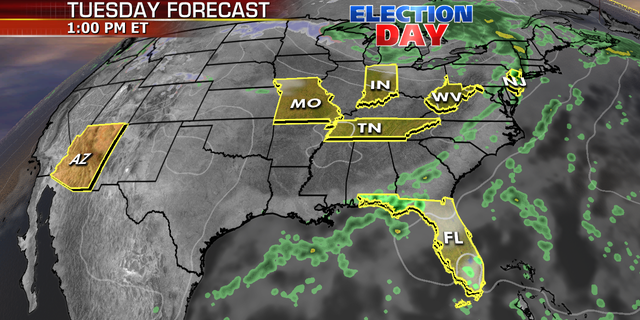 "Damaging wind gusts and brief tornadoes remain the primary expected severe threats," the NWS said.
TOP 10 MOST SHOCKING MIDTERM ELECTION ADS: SIBLING BETRAYAL, RACIAL SLURS AND MORE
The Peach State is where Georgia's secretary of state and Republican gubernatorial hopeful Brian Kemp is locked in a close race against Democrat Stacey Abrams, who could become the first black woman to serve as a U.S. governor. Fox News has rated the race as a "toss-up."
Besides the stormy South, a low-pressure system moving over the Great Lakes and an associated cold front will impact parts of the Midwest and Northeast.
"Rain and storms along the trailing cold front will keep the Northeast, Mid-Atlantic, and Southeast rainy and stormy for Election Day," Dean said.
How could weather impact voters?
Certain types of weather can be shown to have an impact on some voters in deciding whether or not to head to the polls, according to research compiled by AccuWeather.
"Weather was found to be, on average, nearly 20 percent of the change in voter turnout based on our analysis," AccuWeather Data Scientist and Meteorologist Tim Loftus said.
"Democrats are more weather sensitive, when compared to Republicans, and among the most weather-sensitive were African-Americans, those 65 and older and 18-24 year olds," he said.
Studies have also shown that how far work or home is from a polling place could impact voter turnout if the weather isn't great, especially if people have to travel on roads that are affected by a storm.
The type of weather can also be an issue, according to Dean. Besides roads that could be icy or snow-covered, people may be wary about waiting outside in lines to vote if there is severe weather in the forecast.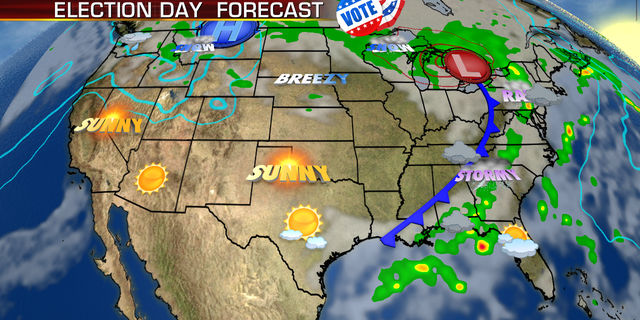 In extreme cases, weather can cause a delay in an election. In Bay County, Fla., which was devastated by Hurricane Michael in early October, voters have been given one extra day to cast their ballots in the midterm election.  Election officials have set up voting "supercenters" because traditional polling stations and the staff to run them, just don't exist after the storm tore through the area.
"Thankfully, our forecast Tuesday, for the most part, should not dissuade too many voters, especially across the Western half of the country," Dean said Monday.
Fox News' Janice Dean and Samuel Chamberlain contributed to this report.