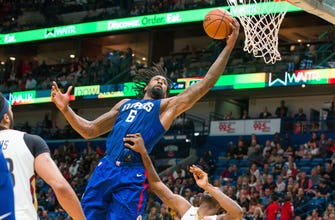 4p: WATCH THE GAME ON FOX SPORTS GO
The losses are starting to pile up for the Brooklyn Nets and, locked in a tight race in the Western Conference, the Los Angeles Clippers are hoping to be the latest team to win at Barclays Center.
The Clippers get their opportunity Monday night when they visit the Nets, who are on a five-game losing streak.
Los Angeles (28-26) currently sits one-half game behind New Orleans. The Clippers remain slightly out of eighth place because while New Orleans overcame blowing a 28-point lead to get a 139-129 double-overtime win at Brooklyn Saturday, they lost 112-98 at Philadelphia.
The Clippers shot 43.2 percent, missed 24 of 32 3-pointers, and committed 16 turnovers that game.
Despite falling short a night after beating former forward Blake Griffin in Detroit, the Clippers are 5-2 in their last seven games since dropping three straight Jan. 20-22. They were also 17-8 in their last 25 games since their record plummeted to 11-18 on Dec. 18.
"Just thought they were fresher tonight," Clippers coach Doc Rivers said. "They played last night, too, obviously they didn't have to travel. It felt like every loose ball and 50/50 play, they got. On that last lay-up, it felt like we were standing and watching instead of playing them on defense."
Rivers made those comments after the Clippers had a 16-point deficit in the first half and gave up 33 fast-break points. Despite those things, the Clippers were within 95-93 but missed their six shots and never recovered.
"We were not bringing the intensity that we usually bring," Clippers forward Danilo Gallinari said after allowing the 76ers to shoot 47.8 percent. "We needed to get into them, especially on the defensive end and we were not doing it. We were doing it for a little bit, but we were not doing it enough."
The Clippers will hope to maintain their intensity against an opponent that is 1-9 in its last 10 games and on its longest losing streak of the season.
Since getting a 116-108 home win over the Philadelphia 76ers on Jan. 31, the Nets have gone winless with losses to the Los Angeles Lakers, Milwaukee Bucks, Houston Rockets, Detroit Pistons and Saturday's wild loss to the Pelicans.