WHAT'S THE CEILING FOR THE 2019 TIGERS?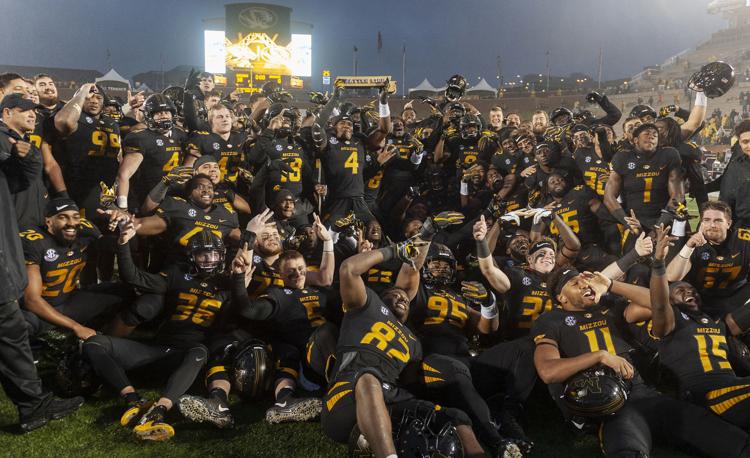 QUESTION: What's you're ceiling for the football team's record next year? I really wanted that ninth win
MATTER: If we're just talking regular season, I'll put it the ceiling at 10 or 11 wins. Georgia is the only elite program on the schedule. Florida had a very good season, has a good team coming back — they just didn't look very good the day Mizzou beat them in The Swamp. That game won't be easy, even in Columbia.
Let's also not overlook the fact that Mizzou hasn't beaten Kentucky or South Carolina in a while. Just because the Tigers return some talent doesn't make those games automatic wins. West Virginia could be tricky. They made an excellent hire in Troy's Neal Brown.
All that said, there's no reason this program shouldn't take another positive step next season — unless Kelly Bryant just isn't a good fit in the offense. But I suspect he'll be highly motivated to put together a great season.
EXPECTATIONS FOR KELLY BRYANT?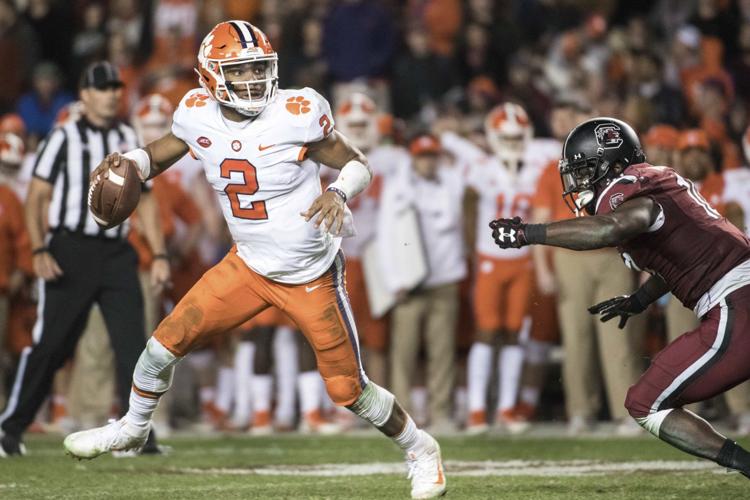 QUESTION: What kind of stats will Kelly Bryant put up next year? What stats would be needed for us to have an elite offense and record?
MATTER: To have an above-average offense, he's going to have to throw the ball. To have an elite offense, he's going to have to throw it pretty darn well. Missouri isn't turning into Navy and only going to run the ball. You can't be one-dimensional in this league — and he'll have the receivers and tight ends to have a functional passing system.
He doesn't have Lock's arm strength or downfield accuracy, so with shorter throws his completion percentage should be in the mid 60s, like it was at Clemson. No reason he can't throw for 2,600 to 2,800 yards and 20-25 touchdowns. (He threw for 2,800 in 14 games at Clemson in 2017.)
How much will he run the ball? That's hard to know right now. In 14 games in 2017, he ran for 665 yards on 192 carries. That's a lot of designed runs and scrambles for your quarterback, nearly 14 a game. I'm not sure MU wants to expose him to that many hits over the course of the season. If he can give this team 500 yards rushing and always have the threat to scramble or pick up yards on option keepers, that adds a new dimension to this offense that defenses will have to counter.
IS SOPHIE PLAYING 'PHYSICAL' OR 'DIRTY'?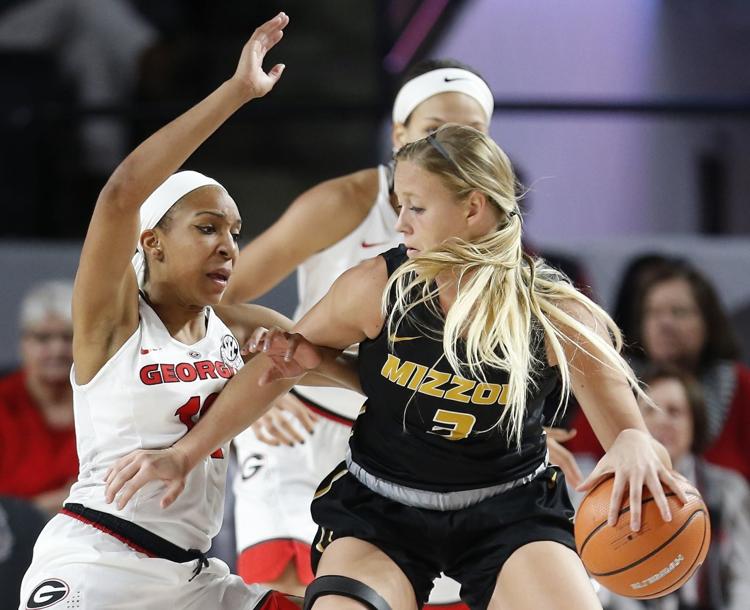 QUESTION: Did you see that high elbow that Sophie Cunningham threw against Tennessee? Wow, looked like that could have been a Flagrant 1 in the men's game. Mizzou seems be to the bad girls of SEC women's basketball now with flare-ups against South Carolina, Auburn and Tennessee. Not a bad thing maybe, but your thoughts?
MATTER: This is not a new development. Sophie's elbows have a reputation in the SEC. Pingeton told reporters Wednesday that the officials were right to call her for the unsportsmanlike foul. That doesn't mean it was intentional. That's just the style she plays. Rough, aggressive and sometimes those kind of plays cross the border between physical and dirty, depending on your perspective  or what colors you're wearing in the stands.
In some ways, Mizzou wears this reputation like a badge of honor in the SEC — not that they're dirty, but that they play a physical brand and get under their opponents' skin. That's been true for several years now. They embrace that reputation — but also fight back against the D word. "Dirty."
NO EXCUSE FOR TILMON'S 'T'
QUESTION: Why would Jeremiah Tilmon allow himself to be so unavailable for one of the biggest games on the schedule  against Tennessee?
MATTER: The official gathered Tilmon and Kyle Alexander and talked to both of them about the talking they were doing on the previous play. It was a warning — and an obvious message to both players that the officials were going to be watching them closely. Not 30 seconds later, Tilmon made the obvious charging foul and when Alexander clapped at the call, Tilmon tossed the ball at him. That's going to earn a technical foul more often than not — but ALWAYS when it happens not a minute after the official gives you a warning. Such a costly mistake.
At some point, the excuse that he's still young doesn't fly. He's played in 46 college games now — and started every one. He's such a conscientious guy, so I imagine he understands what he did wrong. But he's got to learn how to adjust on the court.
SURPRISED BY CROCKETT'S DECISION?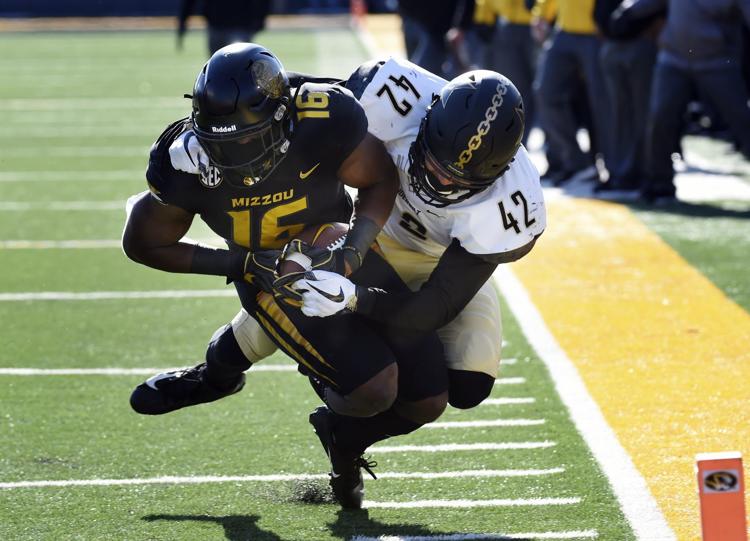 QUESTION: Thoughts on Damarea Crockett going pro? Will he even get drafted?
MATTER: I was mildly surprised but not stunned by his decision. The fact that he didn't play in the bowl game was a bit of a red flag. He practiced leading up to the game in Memphis. Team officials in the press box were surprised when he wasn't in uniform during pregame. As I wrote this week, the NFL advisory committee recommended he return to school. I would like to know more about his decision-making process but he hasn't responded to interview requests. The coaching staff was not just surprised but "very surprised," according to multiple team sources.
But then again he's already been through several injuries. He plays a brutal position in a punishing league. Four years of playing running back in the SEC, even with some games missed, is a lot of mileage on your body. Would being part of another timeshare at tailback help his stock any more for the 2020 draft? Unlikely. And it's obvious that Larry Rountree has emerged as the lead back in the rotation. So, Crockett's going to take his shot this year. He'll also have extra exposure at Mizzou's pro day when teams flock to Columbia to watch Lock's workout. That could work for or against Crockett depending on how he performs.
NOT SO FAST ON TENNESSEE'S 'TURNAROUND'
QUESTION: Seems like Missouri is constantly rebuilding its basketball team and that is why we can't seem to compete with the elite teams in our conference. How is it that Rick Barnes can rebuild Tennessee so quickly into a top team in the nation?
MATTER: I'm not sure I'd agree that Missouri can't compete with the elite teams in the SEC. In Martin's first year, the Tigers went 4-5 against teams that made the NCAA Tournament, including wins over Kentucky and league co-champ Tennessee.
Annual rebuilding is more the rule than the exception in today's game with so many transfers impacting so many rosters. That's what makes Tennessee's roster so unique. Also, when it comes to Tennessee, this hasn't happened quickly in Knoxville. Rick Barnes is in year four. Those first two years weren't very pretty: 15-19 and 16-16. Those veteran players on the floor for the Vols now were the young guys two years ago on a team that didn't even make the NIT.
By that standard, Martin is already ahead of Tennessee's pace.
CUONZO'S COURTSIDE DEMEANOR
QUESTION: People around me at the men's games are quite unhappy with some (actually many) of the refs' calls. But they are equally unhappy with the fact that it looks like Martin never challenges them or shows much emotion. Do you think he should get more upset with the refs?
MATTER: Cuonzo explained last year that he doesn't rant and rave at officials — and I think it's one of the best qualities about him. But he constantly works the officials. All the time. If you sit close enough you'll hear him talk to them all the time between plays and during plays about calls they missed or things they need to watch. He just doesn't humiliate them for the cameras.
He explained his demeanor last year. Share this with the folks in your section: "I'm not a guy who's going to swear, curse or cuss out an official. I'm not doing that to another man, because he's a man first, and he's doing a job. If I can't talk to you the way I need to talk to you then we'll live to fight another day. Because if you're officiating the game the way you're supposed to officiate then I shouldn't have to say certain things for you to change what you're doing, because that's your job to do. And you're hired by this league to do your job.
"I'm not going to demean another man just to get a call, because I am teaching young men what it looks like to be a man, how you act and how you're perceived."
"Now, is it tough? Yeah, it's very tough. Imagine how tough it is to restrain sometimes. But I have to do that. It's not an easy thing to do, and there's a lot of prayer just to keep my focus and composure, especially when I feel like (the officials are) doing that to my guys. That's painful for me. There's not a lot I can do about it. You get a tech and then what? You change a call? Then you're not doing a very good job in the beginning."
HOW DID WALTERS DO IN FIRST SEASON AS D-COORDINATOR?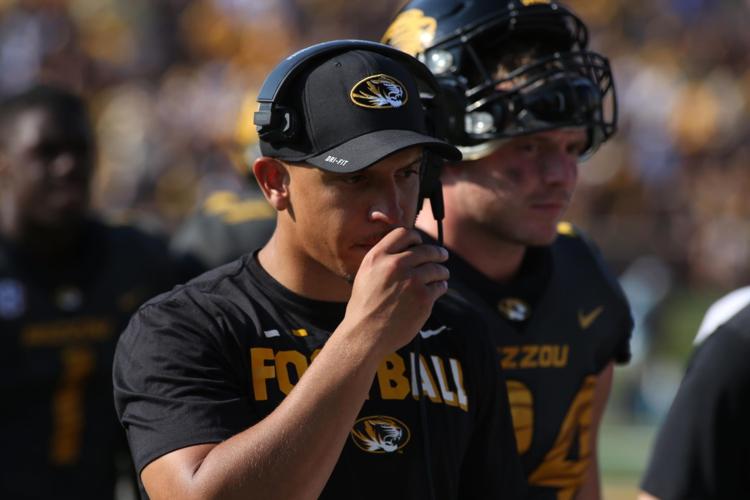 QUESTION: How would you rate defensive coordinator Ryan Walters' work this season?Do you think the loss of the defensive consultant will impact the Tigers? 
MATTER: The staff really loved working with Ted Monachino, the defensive analyst, who's now the new coordinator at Kansas State. He brought a lot of NFL concepts to scouting and personnel evaluation.
As for Ryan Walters, I thought his defense made progress this year — and had to do it without any whiff of a pass rush from the defensive end position. Trying to play defense in today's game without an edge rush is like playing baseball without a pitcher who can strike batters out. It puts so much pressure on the rest of your defense to make plays all over the field on balls in play. MU went from first to 12th in the SEC in tackles for loss this year. A lot of that falls on not having anything more than ordinary play at D-end. This was the best secondary play MU's had under Odom. The bowl game was rough, but for most of the regular season, that unit played well enough to win games. (By their season averages, Oklahoma State had just an average day against Mizzou's defense.)
At best the defense was average, good enough to win most games but still lacking a necessary component.
EVALUATING TERRY BECKNER JR.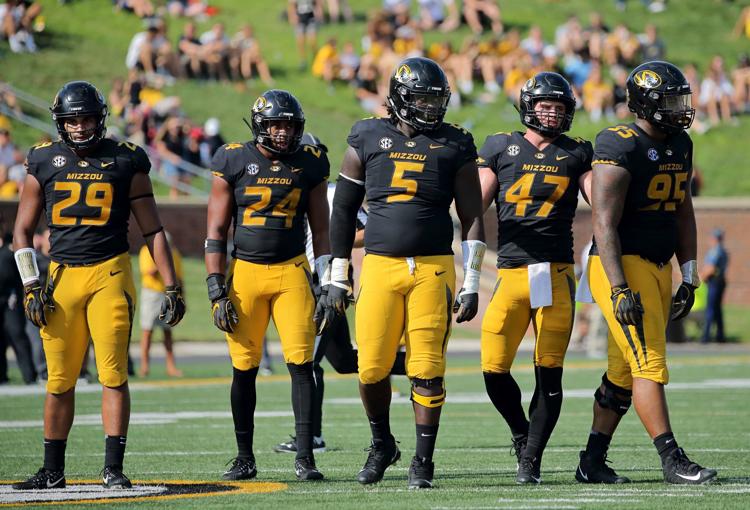 QUESTION: Can you evaluate Terry Beckner Jr.'s senior season, career and chances to be an early-round draft pick?
MATTER: I say it all the time, but I'm not a draft evaluator, but his stock isn't created in a bubble. It'll depend on who else is available at his position. I thought he had a really good junior year and a pretty good senior year. He's a guy who can get into the backfield with his athleticism and quickness. You don't see it consistently every series, but he can change a possession with his ability to knife through an offensive line.
He was productive in terms of tackles for losses (not so much with sacks this year), and this year he had to do it without much of a threat off the edge. He was the guy offensive lines had to worry about.
I think he'll make a good pro. Maybe not a Pro Bowler but a solid NFL player. Defensive line coach Brick Haley has coached in the NFL and coached a lot of great college players and he's certain Terry will make it at the next level. He compares him to Bennie Logan, who's had a pretty good career with a couple different teams.
TORRENCE WATSON'S GROWING PAINS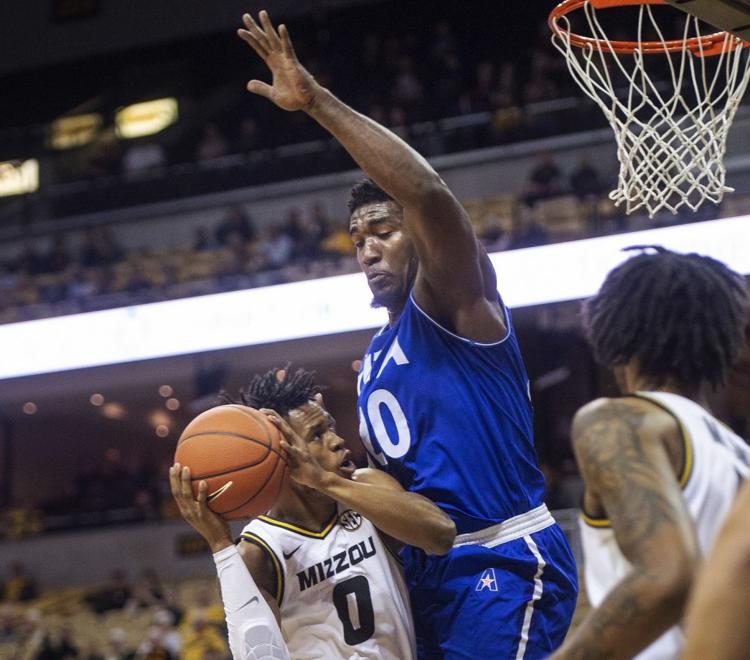 QUESTION: Torrence Watson looks a little lost on the court at times, although he did seem to be moving without the ball a little better against the Vols (although it didn't lead to any scoring). Are you seeing any growth in his game?
MATTER: I thought he showed some growth in December in terms of being ready to shoot and shooting with confidence. A few times he was aggressive getting the ball and creating his own shot. I didn't see any of that on Tuesday in 26 minutes. He was fairly invisible. He was matched against some really good veteran guards, so that explains some of his struggles to make an impact.
But Martin noted this week that Watson has started to really invest in the process, the same way Javon Pickett did starting back in the summer. He's still a guy who can get hot and give you 10-12 points in a flash. He's also still getting accustomed to having to play defense all the time.