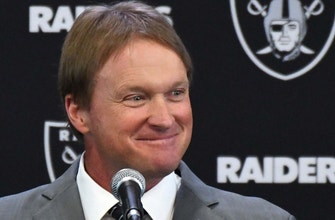 – Well, this is the thing, Jenna. He was so good at broadcasting and ESPN would have had no choice. If he would have gave ESPN the option to match the offer, they would have matched the offer.
So he could have gotten $100 million from broadcasting. I mean, he's making seven or eight million before he took the Raiders job. So let's not get consumed with the money, all right? This is the going rate for what people are getting.
Now, because he did the extended years, that stops him from going back in the television. That's why they do a long-term deal. So he was one of the top broadcasters, which would have fetched him a huge salary.
Jon Gruden loves football. I know all the football coaches that I know that have left the coaching and have gone into the booth or into the studio. The thing they didn't like about the booth, they don't win and lose. When he gets off a Monday night game, they might say the telecast was great. But himself– as a coach and as a teacher, you don't win or lose the game.
Matt Millen told me the same thing and a bunch of other people that have done these types of things. So I'm not surprised he went back to coaching. Football coaches and coaches are coaches.
My girl, Sue, her dad is an 84-year-old. He's the oldest coach in NCAA. He coaches at Yale fencing. He still coaches, still goes to work every day.
And that's what coaches do. He has a gift to teach football and he wants to be able to teach it. And you can't teach football that much when you're in a telecast. So I'm not surprised that Jon came back. And I'm excited that he's back in the NFL.